Administration
---
Ryan Gilmore
DEAN OF FAMILIES
---
To one degree, Mr. Ryan Gilmore has been a part of Oak Grove since its first year when his wife, Lesley, took a job at the school. As an administrator, teacher, and coach, he has been part of the school since the fall of 2021. The Gilmore's are well into their second decade of life together and have three children: Cooper, Claire, and Calvin. Calvin was brought into their family through adoption from Baton Rouge, Louisiana. Ryan and Lesley enjoyed the precious gift of both being in the delivery room when Calvin came into the world, and are blessed by having an ongoing relationship with Calvin's first mama, further extending their own family. They are both active members at Christ Church Albuquerque. As a family, they love running and enjoying the gift of the outdoors the Lord has blessed us with in our city and beautiful state.
Ryan loves Oak Grove because of the Christ-Centered, cooperative model with families who are actively involved as co-teachers in their children's education, and for the liberal arts education students receive and he gets to deliver. He earned his Bachelor or Arts degree in Political Science from the University of New Mexico in 2006, and is currently pursuing his Master's Degree in Educational Psychology, which focuses on ways in which people learn and retain knowledge, specifically in a classroom setting. He is a reflective practitioner, and is constantly assessing his pedagogical skills in light of classical education. Ryan taught history, coached cross country, and track and field at Volcano Vista High School from 2008 until 2014. He took a break from formal education from 2014 until 2021 where he worked in financial planning at Oakmont Advisory Group.
---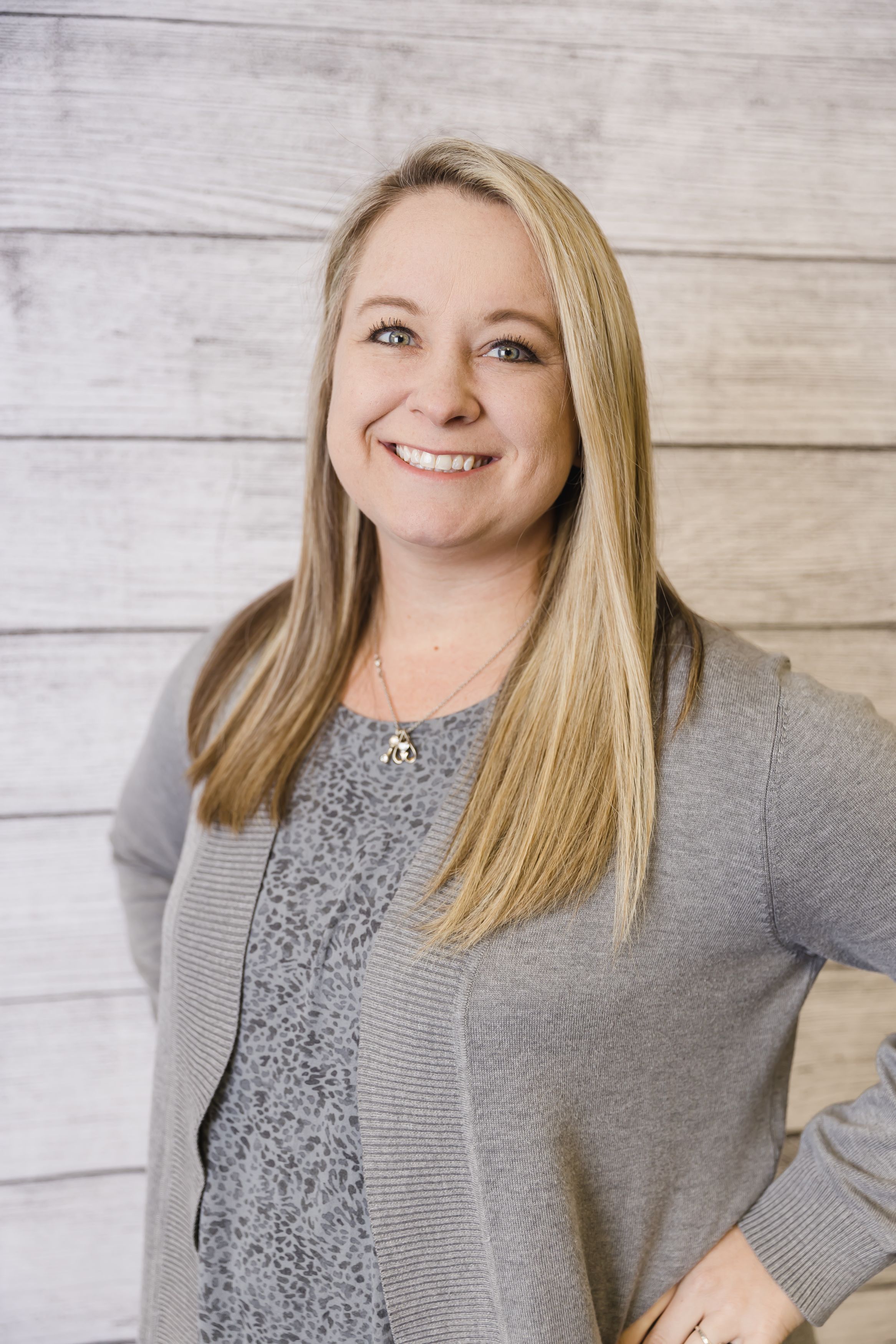 Marcie Sherman
Dean of Program Support
---
Mrs. Marcie Sherman boasts an extensive seven-year tenure on the staff of Oak Grove, having served in the Dean role for the past several years. She is married to Nathan, who is both a pastor at Christ Church Albuquerque and a teacher at Oak Grove. She is mom to four sons.
Marcie's academic credentials include a degree in Biology with a minor in Physics from the University of South Florida, as well as a Masters in Biblical Counseling from the Southern Baptist Theological Seminary.
Marcie and her family have been members of the Oak Grove community for over a decade since her eldest son began Pre-K. Marcie appreciates the genuine manner in which the teachers at Oak Grove show their love for students in tangible ways. She also has a deep admiration for the school's faculty and families, who share a common love for Christ and an unwavering commitment to classical education.
In her free time, Marcie enjoys engaging in various activities with her family including soccer, track, orchestra, and watching good movies. Additionally, she enjoys fellowshipping with fellow believers and witnessing the Lord's work in the lives of those around her.
---
Melissa Duerksen
Head of Rhetoric school
---
Mrs. Melissa Duerksen has been teaching at Oak Grove since 2010. She was married in 1999 and has a daughter, Hope, who attended Oak Grove from Kindergarten through her senior year. Melissa has taught in the Grammar, Logic, and Rhetoric Schools, has been a Department Head and Upper Grammar Director and is currently serving as the Head of the Rhetoric School. She enjoys everything about Oak Grove, but she especially loves teaching Senior Thesis.
Melissa graduated from the University of Phoenix with her Bachelor's in Elementary Education and has a Master's in Education in Leadership from Grand Canyon University. She attends church at Calvary Chapel in Albuquerque where she enjoys the detailed lessons each week. She loves the outdoors and enjoys fishing, swimming, hiking, golfing, and most of all camping in God's incredible creation while spending time with her family.
---
Tabitha Bryant
Head of Logic School
---
Mrs. Tabitha Bryant has served at Oak Grove since 2016, beginning that fall as a Logic School Math and History Teacher. While working at Oak Grove, Tabitha has served in several roles, but her love for supporting students, families, and staff in better understanding and pursuing classical education led her to become the Head of Logic School in 2021.
Tabitha graduated with her Bachelor of Science in Psychology from The University of Utah in 2012 before going on to receive licensure in both Elementary and Special Education in 2015. While she began her teaching career in Special Education in Rio Rancho, she is abundantly grateful to the Lord for calling her to become part of Oak Grove's community due to its loving and Christ-Centered mission – working with teachers who have a heart for sharing the gospel with their students is one of the many aspects of the school that bring her joy.
In her free time she enjoys reading, drawing, and spending time with her family. She and her husband, Morgan, welcomed their son Brayden in the Fall of 2021, and have been grateful for the gift of being parents. Tabitha and her family attend Desert Spring Church.
---
Leslee Schneider
Head of Grammar School
---
Mrs. Leslee Schneider and her family have been part of the Oak Grove community since 2018. Leslee began her career at Oak Grove as a Latin teacher the same year her children started, and quickly fell in love with the model and the community. Her husband is an engineer at Sandia National Labs. They have 3 bio children and an assortment of foster children, depending on the week. Their children are Levi, Alexis, and Caleb.
Leslee earned her BS with honors from Texas Tech University in Bilingual Elementary Education and a minor in Spanish. She has a passion for teaching children and leading teachers. Prior to coming to Oak Grove, she was home for a few years to care for her daughter as a medically fragile infant. Before that, she taught 2nd and 3rd grade bilingual classes in public schools.and Caleb (1st grade).
The Schneiders are members of Christ Church in Albuquerque, where both Leslee and Jason serve in the children's ministry and Jason is part of the safety team. The Schneiders reside in Bosque Farms with a lot of outdoor space for their two large dogs. On the weekends you can typically find them at their children's sporting events, in the mountains or at the lake enjoying road trips, camping and boating. They are also active leaders of the nonprofit they co-founded to help other families facing challenges similar to the ones they faced with their daughter.
Directors
---
Matt Plugge
Rhetoric Athletic Director
(9th-12th Grade)
---
Mr. Matt Plugge has been the Rhetoric athletic director and teacher at Oak Grove since 2021. He loves the community of Oak Grove and the opportunity to be around believers and impact students for the Lord. Prior to Oak Grove, Matt coached women's basketball at the University of Saint Mary and worked as the assistant video coordinator for the women's basketball team at the University of Louisville. He has been a member of Heritage Christian Fellowship since 2006. When not at the school or attending various Oak Grove sporting events, Matt enjoys reading, playing board/card games with friends, and attempting (mostly failing) to recapture the glory days while playing pickup basketball.
---
Jaylene West
Grammar and Logic Athletic Director
(K-8th Grade)
---
Mrs. Jaylene West and her husband Sky have been a part of the Oak Grove community since 2015. They have three children attending the school- one in Grammar, one in Logic and one in Rhetoric. Before coming to Oak Grove, Jaylene home-schooled their children, though after discovering the beauty of Classical Education, committed whole-heatedly to the school and the University Model.
Jaylene has had the pleasure of working both in the classroom as a Friday Refinement teacher and P.E. teacher, as well as a Grammar School Assistant and the Grammar and Logic Athletic Director.
Jaylene attends Calvary Albuquerque with her family and is an active member of the service team. She and her husband also host weekly Bible study with fellow churchgoers. Their children are active in ministry as well, from service teams to worship teams!
In her free time, Jaylene attends sporting events with her family and enjoys village farm life, including tending to the many animals they have!
---
Lawrence Saavedra
School Security Officer
---
Mr. Lawrence Saavedra comes to Oak Grove as a highly respected and decorated officer with more than 30 years of experience in law enforcement, and more than 20 years working with the Albuquerque Police Department. Much of this time he worked with the Crisis Intervention Unit as a detective and trainer for other officers in this area. Additionally, combining his years while on the force and his most recent assignment with Hope Christian school's security team, Mr. Saavedra has 10 years of experience working with school security.
While Mr. Saavedra's list of accomplishments and experience are quite extensive, he is also a man who loves the Lord, loves his family, and is courageously devoted to carry out his duty to protect others, even at the cost of his life.