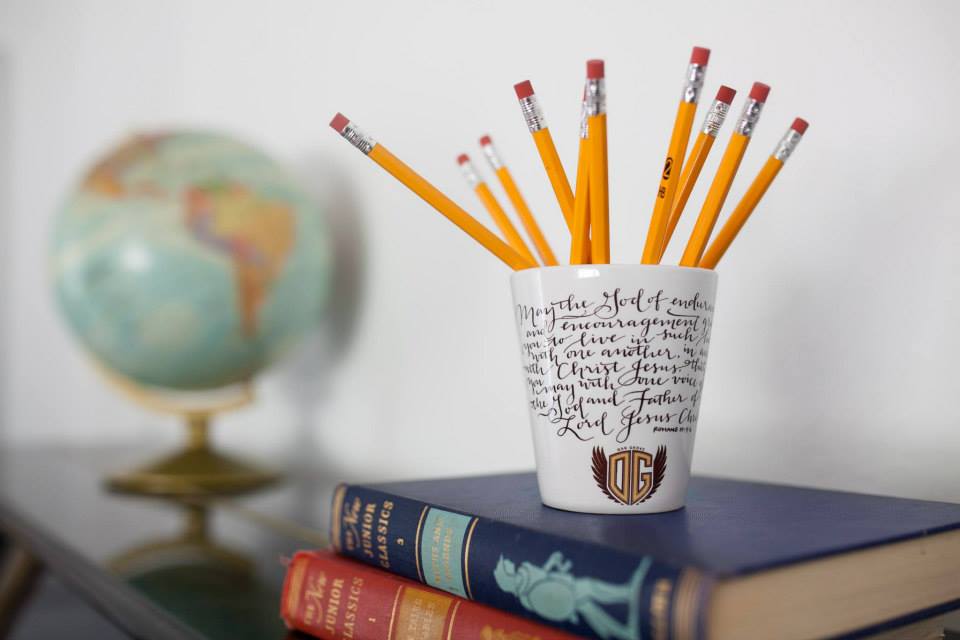 What is the University Model?
Oak Grove Classical Academy is an accredited member of the National Association of University-Model® Schools. Under this model, we blend the strengths of private and homeschooling under a Christian, college-preparatory school framework.
Parents as Co-Teachers, Tutors, and Guides
By partnering with parents as our co-teachers and combining private school education with homeschooling, we provide a more holistic system of education that allows parents to instill their own values in their child's learning. We require parents to become leaders in their child's early education and strong guides as their child grows and matures into independence and ownership of their education.
The University Model provokes dialectic conversations between parent and child. It's meant to unfold larger conversations not just at their desk, but at your dinner table or in the car. You help your child understand what they are learning and how it applies to the world around them, right alongside our educators at Oak Grove.
The heart of creating a lifetime of curiosity and virtuous followers of Christ begins at home, or what we call our satellite classrooms. Because parents are a critical element to the success of our students, it's our job to make at-home learning accessible and efficient. Our academic team plans and posts lessons, while parents build a schedule that works best for their family, giving them more flexibility and ownership of their time.
Parents are given their own Oak Grove email address to make communication easy and streamlined. We provide families with weekly lesson information and highlight any successes or challenges members of our academic team or your child's teacher may see in school.
We want to help provide the freedom to teach. We believe that you can shape school around your family's life and build your own rhythm for your child's success. Do you have a passion for history? Part of your child's lesson can take place around the dinner table. Are you a maven at math? Incorporate your child's lesson in your everyday tasks, in a way you know your child will learn best.
At Oak Grove, our parents are never alone. We are always partners in our students' education, providing support whenever it is needed. We also offer training opportunities several times a year, taught by our own teachers, to maximize success of the hybrid homeschool.
University Model at the Grammar Stage
In the Grammar School, the University Model is a four-day academic program. Students from kindergarten through fifth grade are on our campus for two full school days a week on Mondays and Wednesdays. Parents receive instructions from the student's teachers on a regular basis, outlining home assignments and preparations needed for the next class. They will also take extensive responsibility for direct instruction in some courses and add supplemental work as needed. On Tuesdays and Thursdays, students receive instruction from home.
Fridays are optional school days for Grammar (elementary) students. We offer Refinement classes that rotate and change by semester, highlighting the arts and STEM, including classes on robotics, chess, video editing, or even learning to play the ukulele.Our Grammar stage students also have the option to participate in sports, typically held on Mondays Headlineafter school.
University Model at the Logic Stage
In 6th through 8th grade, parents transition from co-teacher to guides for dependent learning. As they mature, we trust our Logic (middle school) students to take on more responsibility for their own learning, with continuous support and guidance from our academic team, and more importantly, the students' parents.
Our Logic students are on campus three days a week on Mondays, Wednesdays, and Fridays. Logic students also choose choir, orchestra, drama, or art as a focus that they will carry through to the 12th grade and incorporate into their academics.
By the 8th grade, students are capable enough to take on a syllabus and work through their assignments managing their own time.
University-Model at the Rhetoric Stage
Our Rhetoric students, grades 9th through 12th are in school fulltime. At the Rhetoric (high school) stage, all lessons take place on campus, while parents continue their role as guides. Rhetoric students select their own elective classes that are offered throughout the week.
Sports are encouraged – such as our varsity and junior varsity soccer team – but we believe in the importance of balance. We intentionally schedule a respite on Wednesdays.
Intentional Learning with Christ in Mind
Oak Grove Classical Academy believes that learning at home isn't about worksheets, it's about the intentional reflection of the material. We incorporate real-world topics that weave into a vibrant Christian life, encouraging learning that allows for discussions of faith alongside the fundamentals like math and science. For example, when we're studying history, we can talk with our children about how significant events affected Christian believers at the time. When learning about science, we engage in contemplation and thoughtful discussion of the evidence of God's brilliant design.
Is the University Model Right For Your Family?
At Oak Grove Classical Academy in Albuquerque, we want to be your partner in your child's success. We welcome you to take a tour of our classrooms and learn about how our classical university-model can become an integral part of your child's future and your family's life. We look forward to meeting you.