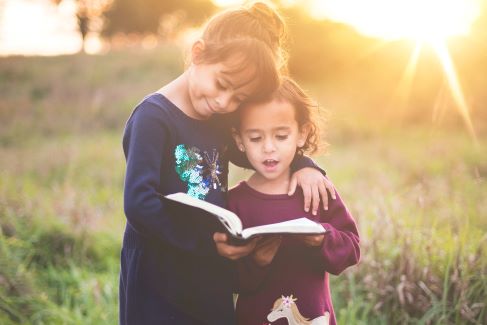 What is a Christ-Centered Education?
In Romans 11:36, Paul writes: "For from Him and through Him and to Him are all things. To Him be glory forever."
At Oak Grove Classical Academy, we believe that Christ is the creator of all things, and that is how we approach our education and our lives. Much like the planets in orbit around the sun, Jesus Christ is our primary source of light and energy. If the sun were removed, the planets would lose their harmony, balance, and life would cease to exist. The purpose and goal in all we do and plan is that God is glorified, exalted, worshipped, and esteemed.
Paul wrote to the Colossians: "He [Christ] is the image of the invisible God, the firstborn of all creation. For by Him all things were created, in heaven and on earth, visible and invisible, whether thrones or dominions or rulers or authorities—all things were created through Him and for Him. And He is before all things, and in Him all things hold together." (Colossians 1:15-17)
The framework for all we do at Oak Grove is our Christian faith, and the moral standard that guides our community. We ask our parents, faculty and staff to sign a Statement of Faith. In it, they agree that the Bible is the word of God and to follow the tenets of the Christian faith in their life and their work. We believe only through this alignment between the home and school environments can students best learn to live a Christ-centered life.
We approach learning in a holistic and integrated manner. We strive to provide students with a bigger picture of the world and an understanding of how each thing they learn is a part of that world.
A Christ-centered school and home is built like the process of putting together a great puzzle. We recognize that each and every piece has individual significance, but only in relation to the whole. Every piece of knowledge, every concept, word, formula, algorithm, premise, historical moment, color, shape, sound, smell, and emotion ultimately finds its significance in our Creator. When putting a puzzle together, one must keep in mind the big picture in order to understand how each smaller picture fits. Christ is the one who brings the mysteries of life to light.
Christ-Centered Learning in the Classroom
"I believe in Christianity as I believe that the sun has risen not only because I see it, but because by it I see everything else." – C.S. Lewis.
In our Grammar School halls, you can hear students' voices singing together, memorizing the newest lesson or letting the Gospel meet them in song. At the elementary age, we point our students toward Christ with His own words and teach them to trust God, planting seeds in their garden of faith.
In our Logic School, we want our students to understand who they are and who God is. Under the Classical Model, we encourage them to be curious, ask questions, and probe further to discover the world around them. Although we do not hold formal bible classes, we infuse our faith into our everyday lives and in every interaction.
In the Rhetoric stage, you'll witness lively debates between students and teachers, encouraging students to argue their perspectives and stand firm in their convictions. The Rhetoric school moves our high school-age students from not only learning about the world around them, but understanding and defending Biblical truths well as a living act of their faith. Our students merge their passion in Christ with eloquence.
Oak Grove grows men and women who can discern what is good and what is true, who are able to take their Christian education and change the world through a Christ-centered life.
The Family's Role in Faith
Families are a gift from God, and without their support our students could not flourish. Through the University-Model®, our parents become our co-teachers, guiding their children through lessons and providing a foundation for Christ-centered learning. Parents are asked to initiate family worship and provide a home that focuses on faith. Our aim is that our lessons will supplement and stimulate spiritual conversations at home.
Benefits of a Christian University-Model®
The goal of the Christian University-Model® is to support our families in strengthening the relationship between their child and their faith. Together, we can better instill in them an understanding of the fruit of the Holy Spirit that lives within them, reinforcing gratitude and compassion. Parents and faculty help students recognize that there can be mercy, grace, and forgiveness in all situations.
A Christ-centered education does more than prepare students to go to college and build successful careers. Here, our students grow to serve others as Jesus did, creating a better world as vessels of the Lord.